Ferretts IPS Liquid Iron 8 fl oz
Ferretts IPS liquid iron supplement

Liquid Iron Supplement
40mg elemental iron per 15mlIron Protein Succinylate is a proprietary stabilized iron compound.The liquid iron is wrapped in a casein protective layer, which allows the iron to pass through the stomach to the intestinal tract for immediate safe and efficacious absorption.Pin It

Ferretts IPS is ideal for those who have had a hard time absorbing iron, it is also ideal for those who have had bariatric surgery.
Ingredients: Each 15ml contains
RDA
Iron (from Iron Protein Succinylate)
40 mg
222%
Physician recommended
Clinically demonstrated to be better tolerated than other forms of iron
Great taste
Enhanced Compliance
Better results
Available without a prescription
Ask your pharmacist or order online
Gluten free
Non-constipating
Click here to submit your review.
---
---
Ferretts IPS saved my life
Apr 30, 2012 by S.F.
I've tried Ferretts IPS and I love it. I was so depleted of iron because the other iron supplements didn't agree with me. And now God has answered my prayers with your product. May God bless your business. Thank you so very much for helping me save my life.

---
Feb 29, 2012 by Carrie Burdzinski
I\'ve been taking the supplement for about one month now and it is by far the best (and only) iron supplement that I\'ve been able to tolerate. I\'ve never been able to swallow pills, so I took an \"herbal\"-based liquid iron supplement for several months. It was not at all effective, and my anemia actually worsened during that time. Next I tried various brands of iron capsules, but had to open the capsules and sprinkle the powder into my mouth. This resulted in blackened teeth, and burning in the throat and stomach. Not only did I experience digestive pain, but the supplements were not effective. My ferritin levels increased very minimally over three months and I remained cold and fatigued.

Ferretts IPS is an entirely different experience. The liquid does not burn my throat. It does not leave stains on my teeth. I can take it with or without meals. I do not experience any digestive disturbances. Most importantly, it is working! Within just one month I\'ve noticed a small increase in body temperature and a warmer pink color in my fingers and face. On my next blood test I am confident that iron levels will have improved. I truly believe Ferretts IPS is improving my quality of life, and I\'m so glad to have discovered it!

Thank you again,

- Carrie B.

---
Yes, I recommend Ferretts IPS
Feb 22, 2012 by Angie from Florida
Yes, I would recommend Ferretts IPS to a friend Great for those who can't take pills.

---
Finally a non-constipating iron
Feb 22, 2012 by Jen from Rosemount, MN
By
Yes, I would recommend Ferretts IPS to a friend. I am so glad I found this product. I now take my iron daily without the constipation from taking other forms of iron.

---
Taste good
Feb 22, 2012 by Wicked Warren
Yes, I would recommend Ferretts IPS to a friend I've been diagnosed with border-line anemia. I also have developed dysphagia (problem swallowing). Since iron deficiency sometimes is a factor in dysphagia, doc recommended iron supplementation. The first two I tried raised cane with my digestive tract. Ferretts IPS Liquid has not caused any side effects. It's easy and convenient to take. Besides, it tastes good!

---
Great Product
Feb 15, 2012 by Jacapo
Ferretts IPS is the best iron supplement I have found, it doesn't upset my stomach and it brought my iron levels up to where they should be so now I have more energy and feel so much better. Thanks

---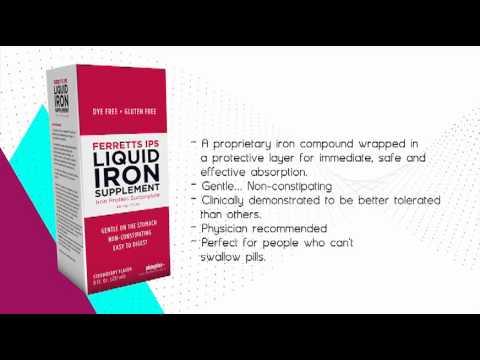 Ferretts IPS Liquid Iron is for use as a dietary supplement.
Other Ingredients: Purified water, sorbitol solution, propylene glycol, casein (milk protein), strawberry flavor, sodium hydroxide, methylparaben sodium, propylparaben sodium, saccharin sodium.
DOSAGE:
Each 1ml contains: 2.67 mg iron (237 x 1 ml doses)
Each 5ml contains: 13.33 mg iron (47 x 5 ml doses)
Each 7.5ml contains: 20 mg iron (32 x 7.5 ml doses)
Each 10 ml contains: 26.67 mg iron (24 x 10 ml doses)
Each 15 ml contains: 40 mg iron (16 x 15 ml doses)
Suggested Use: 15 ml daily or as directed by a health care professional
WARNING: Accidental overdose of iron containing products is a leading cause of fatal poisoning in children under 6. Keep this product out of the reach of children. In case of accidental overdose, call a doctor or poison control center immediately.
CAUTION: If you are pregnant or nursing a baby, seek the advise of a health care professional before using this product.
HOW SUPPLIED: Ferretts IPS liquid Iron is available in 8 fl.oz. bottles. Approximately 16 x 15 ml doses per bottle. Store at controlled room temperature 15° – 30° C (59° – 86° F)
These statements have not been evaluated by the Food and Drug Administration. This product is not intended to diagnose, treat, cure or prevent any disease.
Customers also bought