O-Cal Prenatal Vitamins – 240 tablets
Are you nutritionally ready for a pregnancy?
O-Cal Prenatal vitamins are formulated to provide essential nutrients which play an important role in the development of the fetus and the health of the mother. Click on the video below and discover why intake of prenatal are so important.  Have you taken your O-Cal Prenatal today?  8 month supply per bottle for added convenience and saving, only 17 cents per tablet.

EASY TO SWALLOW: White film coated tablet.
GENTLE ON THE SYSTEM
IRON : to help support proper blood development for you and your baby.*
COMPLETE FORMULATION: 16 vitamins and minerals including calcium to help build healthy bones.*
1 mg FOLIC ACID: Folic Acid may reduce the risk of having a child with a brain or spinal cord defect*
GLUTEN FREE
8 month supply per bottle – an Exceptional Value!
Select the Combo pack and get 1 bottle of O-Cal Prenatal Vitamins and 1 bottle of Omega-3 with DHA and receive additional savings

New studies indicate that taking a prenatal vitamin that is rich in folic acid, three months prior to conception and during pregnancy may reduce the risk of Autism.  There is also a new study that indicates that Iron taken before and during pregnancy may also reduce the risk of autism, but it is necessary to consult your physician before taking any additional iron supplements.*

Our price:$39.95

Market Price: 49.95



SKU: 00813-0202-24
Weight: 0.82 lbs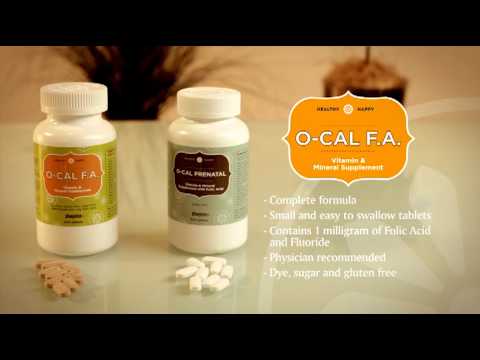 Click here to submit your review.
---
---
Best prenatal ever
May 08, 2013 by Jill
I am one of those people who has a very sensitive stomach and I have tried lots of prenatal vitamins. O-Cal prenatal is the best. I love the fact that is small easy to swallow, but most important is the fact that it doesn\'t upset my works. I feel so much better when I take my prenatal vitamin each day. I recommend O-Cal prenatal vitamin to everyone I see. Thanks for make such a great product.

---
Mar 04, 2012 by lisa m
If you are looking for a great prenatal this is the one. I haven't experienced any nausea, and it makes me feel as if I have more energy.

---
great product
Feb 22, 2012 by Jess K
Author: Jess K
I tried numerous other prenatal supplements, all of which made me feel ill, when I came across O-Cal one day. The supplements are easy on the stomach, devoid of too many extra \"fillers\" and quite inexpensive. Thank you for making this great-quality product. I am 8 months pregnant now and would recommend them to anyone!

---
Ingredients: Each tablet contains
%RDA
Vitamin A (Beta Carotene)
2500 IU
31%
Vitamin C (Ascorbic Acid)
70 mg
117%
Vitamin D (Calciferol)
400 IU
100%
Vitamin E (Acetate)
31 IU
100%
Thiamine (B1)
1.5 mg
88%
Riboflavin (B2)
1.6 mg
80%
Niacin (as Niacinamide)
17 mg
85%
Vitamin B6 (Pyridoxine HCl)
12 mg
480%
Folic Acid
1 mg
125%
Vitamin B-12 (Cyanocobalamin)
12 mcg
150%
Calcium (Carbonate)
200 mg
15%
Iron (Ferrous Fumarate)
15 mg
83%
Iodine (Potassium Iodide)
150 mcg
100%
Magnesium (Oxide)
100 mg
22%
Zinc (Oxide)
15 mg
100%
Copper (Cupric Sulfate)
2 mg
100%
Other Ingredients: Microcrystalline Cellulose, Croscarmellose Sodium, Magnesium Stearate, Stearic Acid, Hydroxypropylmethylcellulose, Titanium Dioxide, Triacetin, Sodium Dioxide.
DOSAGE: One prenatal supplement daily or as directed by physician. Take on an empty stomach with water; take after meals or with food if gastrointestinal upset occurs.
CAUTION: There may be possible harmful effects of administering Folic Acid to patients who may have Pernicious Anemia (due to the possible masking of symptoms).
WARNINGS: Accidental overdose of iron-containing products is a leading cause of fatal poisoning in children under 6. Keep this product out of the reach of children. In case of accidental overdose, call a doctor or poison control center immediately.
HOW SUPPLIED: Our prenatal vitamins are oblong white film coated tablet embossed with "Pharmics" in bottles of 240 and "0813″ on the reverse
*These statements have not been evaluated by the FDA. Prenatal vitamins are not intended to diagnose, treat, cure, or prevent any disease.
Customers also bought